ABOUT L

ICENSING
PERHAPS YOU NEVER PURCHASED OR LEASED AN INSTRUMENTAL FROM AN INDEPENDENT PRODUCER BEFORE? IT CAN BE A NERVE-WRACKING THING ANYTIME WORDS OF LEGALITIES BECOME INVOLVED. BUT I CAN ASSURE YOU THERE'S NOTHING FOR YOU TO WORRY ABOUT. I HATE THIS STUFF AS MUCH AS YOU DO. BUT THIS IS ONLY A WAY FOR TO FINANCIALLY PROTECT OURSELVES "JUST IN CASE" SOMETHING WERE TO UNEXPECTEDLY HAPPEN. JUST DOWNLOAD A COPY OF MY LEASING CONTRACT AND READ OVER IT A FEW TIMES. IT WILL MAKE SENSE. HOWEVER, IF YOU HAVE ANY QUESTIONS OR CONCERNS OR NEED SOMEONE AS MORAL SUPPORT TO HELP GUIDE YOU THROUGH THE CONTRACTUAL PROCESS, I AM HERE TO HELP. JUST EMAIL ME AT JACOBTHEWILLIAM.beats@GMAIL.COM. HAVE FUN & DON'T WORRY!
BEAT LICENSING EXPLAINED:
The concept of beat licensing is not hard to understand. A producer makes a beat and uploads it to their beat store. Any artist can buy these beats directly from the store and use it for their own songs.
In exchange for their purchase, the producer will provide the artist with a license agreement. A document that grants the artist certain user-rights to create and distribute a song but has certain limitations on the amount of distributions according to which tier of license they decide to purchase.
A common misconception that often occurs is when a producer gives away his or her beats for free. This is usually a promotional tactic to encourage an artist to hopefully become a customer. However should the artist chose to accept any beat(s) for free, the truth is, that free beat is useless as there is no legal proof and permission to use it. It is intended for demo purposes only. If you would like an audience to hear it, you must purchase a license to do so... this is where the license agreement comes in.
[But don't worry, today they are inexplicably cheap! This is because beatmakers/producers themselves destroyed their own market! this is a whole other conversation for another day my friend... I cannot speak on it without getting upset]
Before we go any further, we have to let go of the common phrases of "buying beats" and "selling beats". The product that we're dealing with here is simply not the beat itself. It is the license agreement.
NON-EXCLUSIVE BEAT LICENSING
Non-exclusive licensing, also known as 'leasing', is the most common form of beat licensing. For anywhere between $20-300, you can buy a non-exclusive license agreement and release a song on iTunes, Spotify, Apple Music, create a music video for YouTube, and make money from it!
These are also the types of licenses that are directly available from the producer's beat store. In other words, you don't have to inquire for them and you can instantly buy a license from the online store.
In most cases, a license agreement is auto-generated, including the buyer's name, address, a timestamp (Effective Date), the user-rights and the information of the producer.
With a non-exclusive license, the producer grants the artist permission to use the beat to create a song of their own and distribute it online. The producer will still retain copyright ownership (more about this later) and the artist has to adhere to the rights granted in the agreement.
THE LIMITATIONS OF A NON-EXCLUSIVE LICENSE
Most non-exclusive licenses have a limitation on sales, plays, streams or views. For example, the license might only allow a maximum number of 50,000 streams on Spotify and/or 100,000 views on YouTube.
A non-exclusive license will also have an expiration date. Meaning that it's only going to be valid for a set period of time. This could be anywhere between 1-10 years. After the contract period is due, the buyer has to renew the license. In other words, buy a new one.
The license will also need to be renewed as soon as the buyer reaches the maximum amount of streams and/or plays/units sold or downloaded. *Even if that's before the contract's expiration date (!) *
Since these licenses are non-exclusive, a single beat can be licensed to an unlimited number of different artists. This means that several artists could be using the same beat for a different song under similar license terms.
Whether this is a problem depends entirely on what stage the artist is. A beginner artist would be best off with a non-exclusive license, while a signed artist or an artist that is on the verge of blowing up might be better off with an exclusive license.
THE DIFFERENT TYPES OF NON-EXCLUSIVE LICENSES
Most producers offer different non-exclusive licensing options. In most cases, they often provide options of an MP3, WAV, Premium, and Unlimited License.
In my case, I only sell one type of license. I do this to make everything more simple - for me and for the buyer (but definitely more-so for the buyer... just saying)
Every option comes with its own unique user-rights. These user-rights are often displayed in licensing tables, which you have no-doubt seen before if you've been shopping for beats...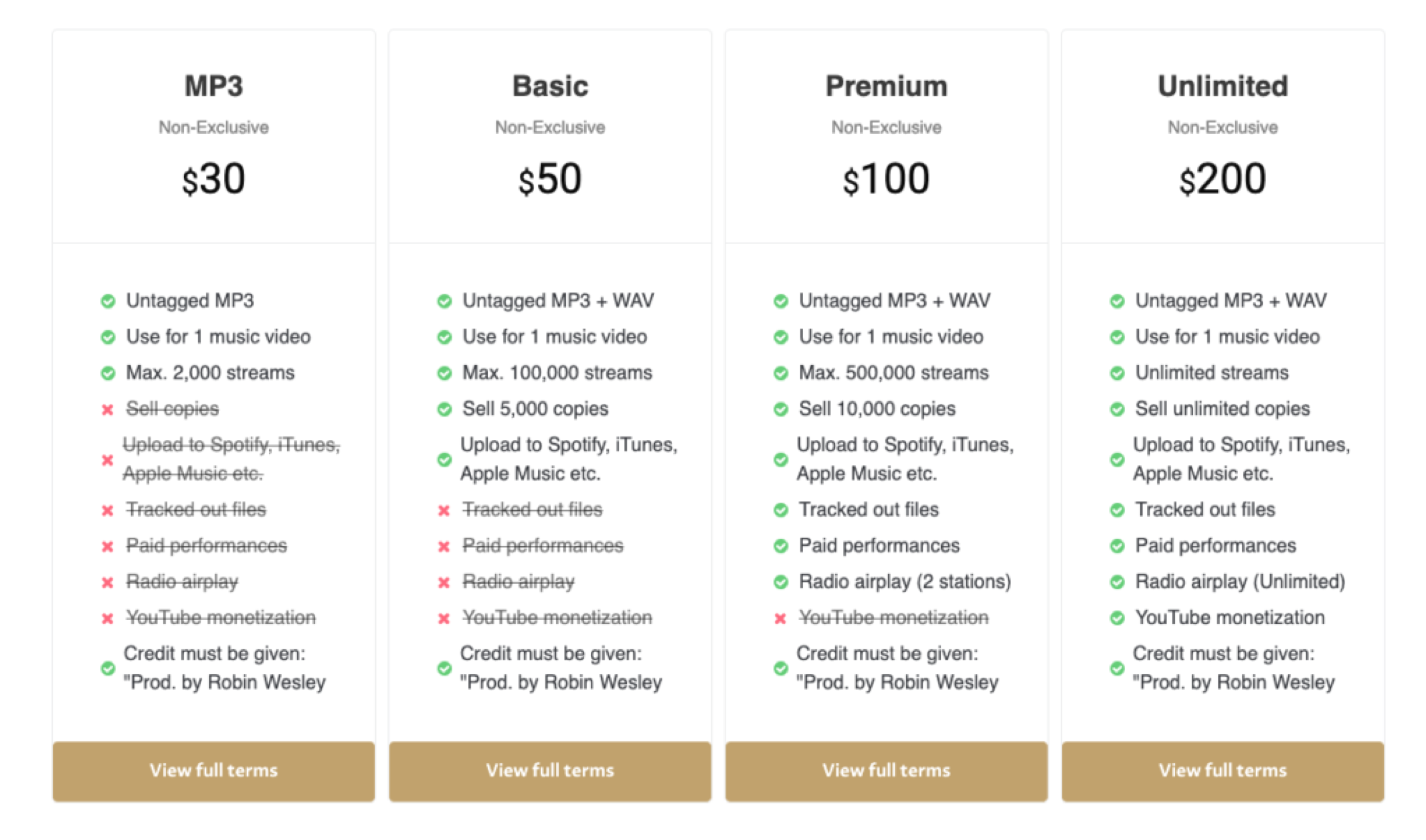 Obviously, the more expensive the license, the more user-rights you're getting. These more expensive licenses also come with better quality audio files.
In my case, the second-highest tier, the Premium license, is the most popular. That's simply because you get the best audio quality, tracked out files of the beat and good user-rights.
Artists who believe these rights still aren't sufficient for their song, usually go for the highest tier. The Unlimited license. Or even better, an Exclusive license.
A lease includes a high quality (320kbps) mixed tag-free MP3-file, WAV-file (optional), A beat can be leased to more than one person at the same time until exclusive rights are sold to the beat. Once a beat has been sold with exclusive rights, it will no longer be available for any kind of leasing. Previous leasing rights that have been sold before are not affected & stay valid until the sales cap has been reached.
Leasing a beat does not make the customer the sole owner of the beat. The licensee is allowed to get profitable radio-, video- or television-airplay or to perform the song on commercial/profitable shows with a leasing license. The licensor expressly forbids re-sale or any other distribution of the producer's compositions, either as they exist or any modification thereof. You (the customer) cannot sell, loan, rent, lease or transfer all or any of the products sold or the corresponding rights to another person (example - Record Label, another production company, another producer, another artist), or for use in any competitive product.
The licensee understands that the licensor maintains 100% copyright & ownership of the original instrumental composition.
Licensee cannot use any beat compositions as background element in TV, Film & DVD / computer game projects without obtaining written consent & a separate license agreement. Licensee must include on all productions & products the producer's name. Licensee agrees to display the producer's name in all physical media or within web presentation of a portion (e.g. pre-listening) or sum of the original instrumental composition that is being licensed in this agreement. Including but not limited to CD's, CD covers, Cassette tapes, LP's, Cards, etc.
Any displayed or downloadable MP3 files must include ''produced by Jacobthewilliam'' within the file name. Furthermore, LEASING RIGHTS are subject to registrations in points
EXCLUSIVE BEAT LICENSING
When you own the Exclusive Rights to a beat, there are no limitations on user rights. Meaning that an artist can exploit the song to the fullest.
There is no maximum number of streams, plays, sales or downloads nor is there an expiration date on the contract. The song may also be used in numerous different projects. Singles, albums, music videos etc. In comparison to non-exclusive licenses, which are usually limited for use in a single project only.
In the case of buying the exclusive rights to a beat that was previously (non-exclusively) licensed to other artists, the artist that purchased the exclusive rights is typically the last person to purchase it. After a beat is sold exclusively, the producer is no longer allowed to sell or license the beat to others.
That doesn't mean the previous non-exclusive licensees will be affected by this. Every exclusive contract should have a section with a "notice of outstanding clients" included. This section protects these previous licensees from getting a strike by the exclusive buyer.
"Notice of Outstanding Clients" These are the main differences between non-exclusive licenses and exclusive licenses. But it goes further than that and there's often confusion around the topics of rights and royalties. Going forward in this guide, we will go more in-depth about Royalties, Publishing and Copyright.
Two very different ways of selling Exclusive Rights
For many years, producers had different ways of selling exclusive rights. Luckily, in more recent years, contracts are becoming more streamlined and matching the industry standard. Still, I want to address two very different ways of selling exclusive rights.
SELLING EXCLUSIVE RIGHTS OWNERSHIP
By selling exclusive rights, the producer remains the original author of the music. And is still able to collect writers share and publishing rights.
By selling exclusive ownership, the producer sells the beat including all interest, authorship, copyright etc. These deals are also known as 'work-for-hire'. Basically, the artist retains actual ownership over the beat and will–from that point on–be considered as the legal author of the beat.
Within the beat licensing industry, selling exclusive ownership is wrong, unethical and–in most cases–not compliant with Copyright Law.
It's only right to come to an agreement where both the artist and producer are credited for their work; Legally, financially and commercially.
The purchase of exclusive rights grants the customer full artistic & commercial rights to the purchased beat. There is no sales cap related to exclusive rights. An exclusive rights purchase comes as a mixed tag-free WAV-file, the corresponding separate track-lines & contract/invoice stating the rights of use. Previous leasing rights being sold before the beat has been sold exclusively are not affected hereby & stay valid until the sales cap has been reached. It is therefore possible that a beat has been leased several times before exclusive rights are sold. The beat will be marked as 'sold'' & any possible download & licensing option will be removed.
Upon request, a sold beat will be removed from any website & marketing space where it has been offered by the licensor. The licensor expressly forbids re-sale or other distribution of the producer's composition, either as they exist or any modifications thereof. You (the customer) cannot sell, loan, rent, lease or transfer all or any of the products sold or their rights to another person (example - Record Label, another production company, another producer, another artist), or for use in any competitive product.
FREE DOWNLOADS

Free downloads of any beat produced by Jacobthewilliam do not include any artistic or legislative rights to the beat. Those versions are only for non-profitable use, meaning only for demonstration purposes only. You are allowed to upload tracks (recorded over free downloaded beats) on Internet pages like Audiomack, Soundclick, Facebook, Soundcloud or Youtube, etc. When being uploaded or presented (for demonstrational use only!).
credit always has to be given in a written form to "Jacobthewilliam" (e.g. in the song description). You are NOT allowed to put the track on a mixtape or album, even if it is for promotional use only. For this purpose you need to purchase (at least) a lease. The meaning of free downloads is to do a song for yourself as a demo pre-recording to see if the song works out well & is worth it to make an investment in one of the license types. You are not allowed to make any kind of profit with free download versions. No video-, no TV-, no radio- airplay allowed!
Furthermore the artist is not allowed to make any changes to the beat or remove any of the used tags. Copying or ripping any audio material (e.g. beat, tag, sounds, instruments, drums, etc.) is prohibited & will not be tolerated at any time! The person disobeying this rule will likely face a law suit.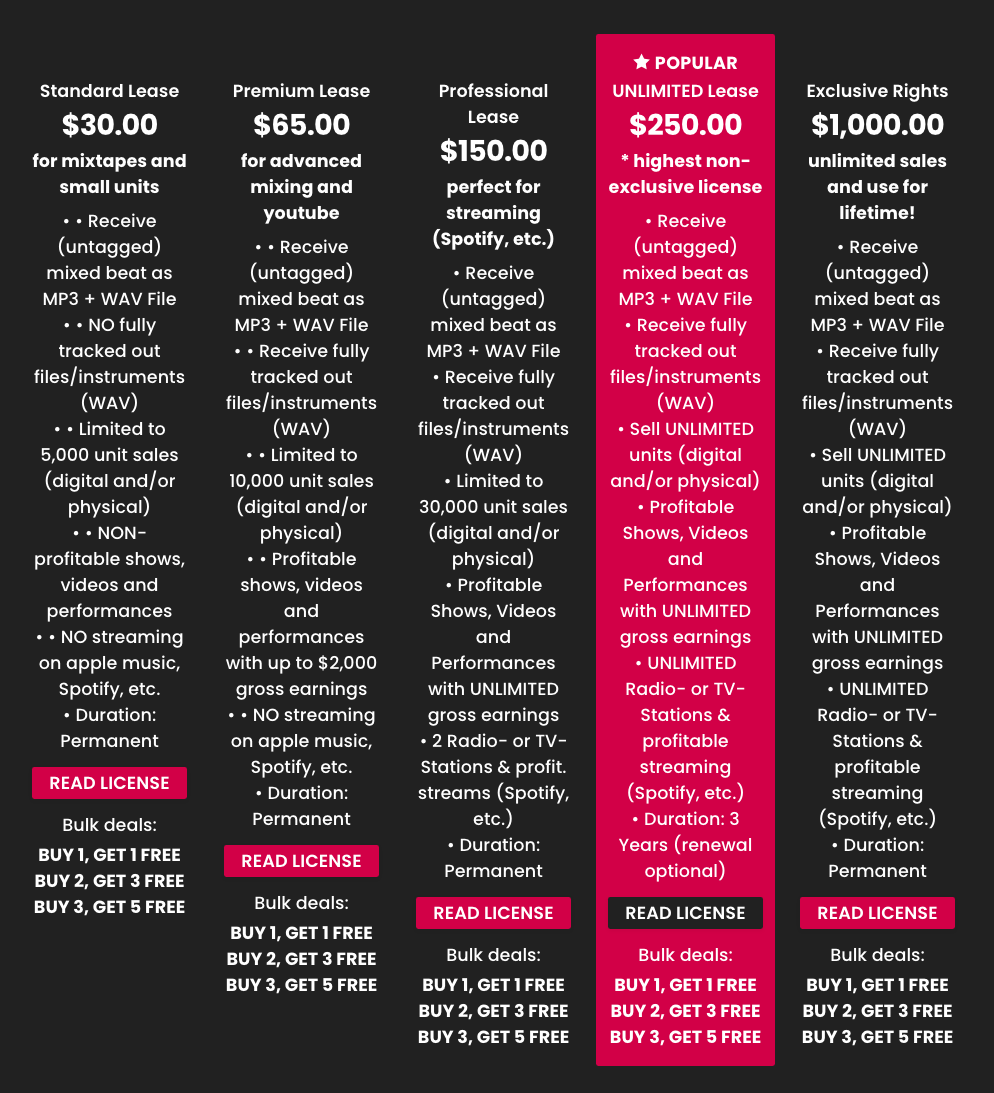 HIGHEST QUALITY:
All instrumentals we upload to our online stores will have a verbal "tag" that sporadically repeats itself on top the beat throughout the entire length. This is only to protect ourselves from piracy or any other methods of illegally stealing the use of our copywritten work. The tag will remain on the beat if/when you utilize our free download option, in addition you will be downloading a poor quality audio file [.mp3 160 kbps bitrate] to use as a demo version only to write to. It is important to keep this in mind. Furthermore, the tag will be removed upon purchase or lease. Thus the purchaser/leaser will be provided a downloadable beat with the best possible audio quality[ .WAV file at 24bit, 48k.].
UNMASTERED:
All instrumentals we offer on this website and on all other platforms have not been mastered. This is simply to allow you to record vocals on top & still leave an additional bit of headroom in case you plan to get it mastered in the future. This is very important. Ideally, it is good practice to keep about -6db minimum of headroom. This will allow any mastering engineer to do their job most effectively. If you have any questions/concerns regarding a mix of a beat, or need help mixing the song you make to my beat, please contact me directly at jacobthewilliam.BEATS@gmail.com and I will be happy to help in any way that I can. Your satisfaction will always mean a lot to me.
NO WAITING FOR YOUR BEATS -
Our top quality instrumentals are perfect for artists looking to make music! There over 500 instrumentals to choose from and a variety of different genres, including hip hop, pop and even rock! These instrumentals are professionally mixed and ready to use. As a young man when I first began selling beats online, I can clearly remember revieving signed checks in the mail. Then having to burn the leased/purchased beat to CD, printing off the contract, and then literally going down to the post office to mail it away! [lol crazy I even did that!]. Today - thanks to the rise of multiple beat selling platforms/online stores - you can simply purchase, download, and start recording right away! Pretty cool.
STREAMING LIMIT:
Keep in mind when reading through the contract - All beat leasing contracts mention that those who lease a beat are limited to a certain amount of streams on all music platforms. As well as a limited amount of and video views on youtube. When this pre-determined number is surpassed - you've breached the bounding limits of the contract and you will then be required to either renew your lease or purchase exclusively - hell... Let me be honest. There is no way that I know of policing this so I will just simply have to trust that you will be an honest person and do the right thing. This is probably a non-issue because I know you always do the right thing... right? ?
Non-Exclusive Beat Licensing
Non-Exclusive licenses grant you specific user rights to the beat that you are about to record your lyrics and vocals on. It doesn't mean that you own it (exclusively). The producer of the beat still retains copyright ownership of the beat. It means that the producer has the right to license the beat to whomever he wants to, until someone purchases an Exclusive license. With a non-exclusive license, you get 0% publishing rights.
NON-EXCLUSIVE COPYRIGHT INFORMATION
After you have recorded your vocals to one of our beats, you have created a derivative work. You have copyright over the lyrics that you recorded over the beat but you don't have copyright to the music used for your song. Upon submitting your song to TuneCore or CDbaby they ask you who the copyright owners of the song are. In that case, you'll have to tell them that you only have copyright over the lyrics and that you've created a 'New work' with copyright protected audio that has been non-exclusively licensed to you by the producer.
EXCLUSIVE BEAT LICENSING
When you own the Exclusive rights to a beat, you can use the master (your song) without limits on user rights (in comparison to beat licensing). Meaning that you can exploit your song to the fullest. You may exploit the master without any limitations in way or territory of use. So if you think you can get your record on #1 in ten different countries and sell millions of copies, then you are allowed to do so. Beat licensing is no longer an issue because you will own the exclusive rights to the song you created with our beat. That also means that after you have purchased the exclusive rights, we will no longer sell or license the beat on our website.
EXCLUSIVE COPYRIGHT INFORMATION
Producers differ in how they define 'Exclusive.' In our case, we always ask to execute a 50/50 split-sheet and we retain copyright ownership over the music we created (The way it should). We negotiate a fair split of publishing rights with the artist (or their representatives) and work together with the artists to maximise the song's potential. As that would benefit us both. Some of the terms in an exclusive license can be discussed or negotiated, as we always advise artists to contact the producer first before purchasing an exclusive license.

WHAT BEAT LEASE

DO I NEED?
Understanding license agreements can be confusing for both new and experienced artists alike. Whether it's a standard MP3 license or an Unlimited license, navigating the various licensing types and knowing what each offers is important when it comes to distributing and profiting from your song. One license offers more flexibility to leverage your song while others make more sense for your financial situation. In this post, we hope to help you gain a better understanding of each license agreement and which suits you best.
First, let's start with a quick reminder of what a License Agreement is. A License agreement is an agreement between you (the licensee) and the licensor (the Producer), that grants you permission to use the beat under certain guidelines and stipulations. These guidelines can vary depending on the license type and the producers you are working with. Knowing these guidelines is important for both the artist and producer as it can save a lot of time, money and possible legal disputes.
There are four types of license agreements on most online beat stores: Mp3, WAV, TrackOut and Unlimited License. At first glance the name of each license can seem self-explanatory, but the devil is in the details. One license may grant you certain permissions that another might not.
$20-$30 MP3 LICENSE: COMMONLY REFERRED TO AS LEASING RIGHTS
If you're going to record and release your song but don't expect to profit from it initially, the MP3 license is the best way to go. The Mp3 license allows you to only upload your songs to SoundCloud, and use your song for non-profit projects and performances. *Distributing and monetizing on streaming platforms like YouTube, Spotify, Apple Music, etc. is NOT allowed with this license* (This license is recommended for artists on a tight budget because it offers them an option to work with they got until they are able to upgrade their license.)
$50 WAV LICENSE
With the Wav license, you receive both the Wav and MP3 file of the beat (Wav files are definitely a better option in fidelity for recording, rather than MP3's). Wav licensing allows you to distribute your song to SoundCloud and other streaming platforms such as Spotify, Apple Music, ect. The Wav license allows you to profit from up to 10,000 of your unit sales + monetize up to 100,000 cumulative streams. This license allows you to use your song for 1 music video, however YouTube monetization is not allowed with this license.
$100 TRACKOUT LICENSE: COMMONLY REFERRED TO AS STEMS
(MOST COMMON + MOST POPULAR CHOICE FOR SERIOUS ARTISTS)
The *Most Popular* licenses is the TrackOut License. Artists usually find this license ideal for mixing and rearranging because they receive the tracks stems of the beat, giving them more freedom to mix and arrange the track to their liking. Generally speaking, a tracked-out version will be split into 4 sections (4tracks) Rhythm This license allows you to distribute to all streaming platforms and sell up to 15,000 copies of your song and monetize up to 150,000 of your cumulative streams. This license also allows you to use your song for 1 music video, however YouTube monetization is not allowed with this license.
$300 + UNLIMITED LICENSE: COMMONLY REFERRED TO AS EXCLUSIVE RIGHTS
With this license you can sell an unlimited amount of copies of your song. Its allows for an unlimited amount of monetized streams on all streaming platforms. Essentially, you buy all ownership of the beat from the producer so therefore, you are allowed to do with it whatever you want! One of the biggest things the Unlimited license offers is the ability to enable YouTube Monetization for your song; something the other licenses prohibit. This is great because once your music video is completed and posted to YouTube, you can start earning money from it off views you get!

Now that we've gone through each license type, the big question still remains: Which License should you choose? The answer is simple. The license that allows you to make the most out of your song while being realistic about your current career situation. Also, keep in mind you can always upgrade your license by simply contacting us via email jacobthewilliam.BEATS@gmail.com and paying the difference. Every artist wants to earn money from doing what they love. Don't sell yourself short!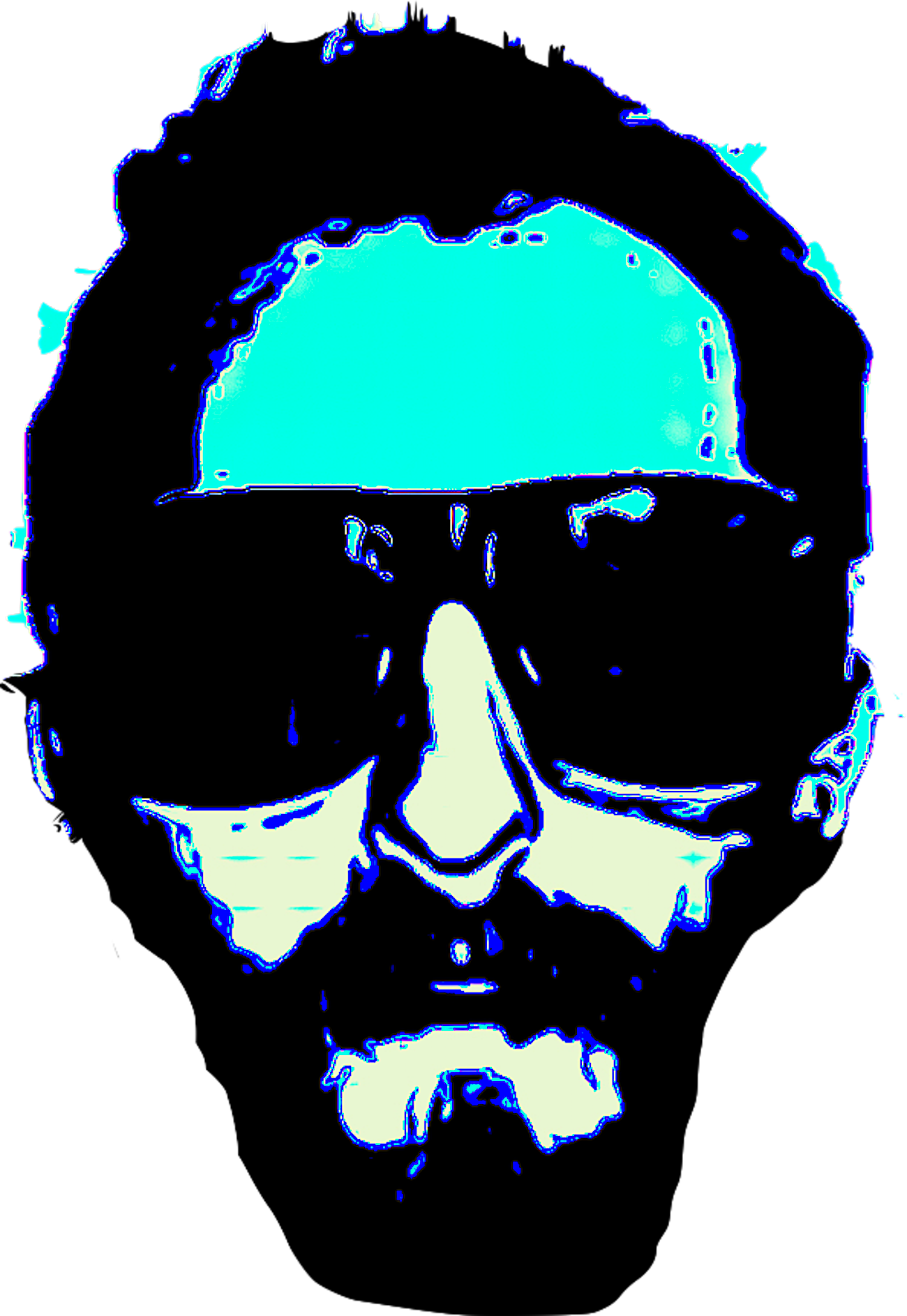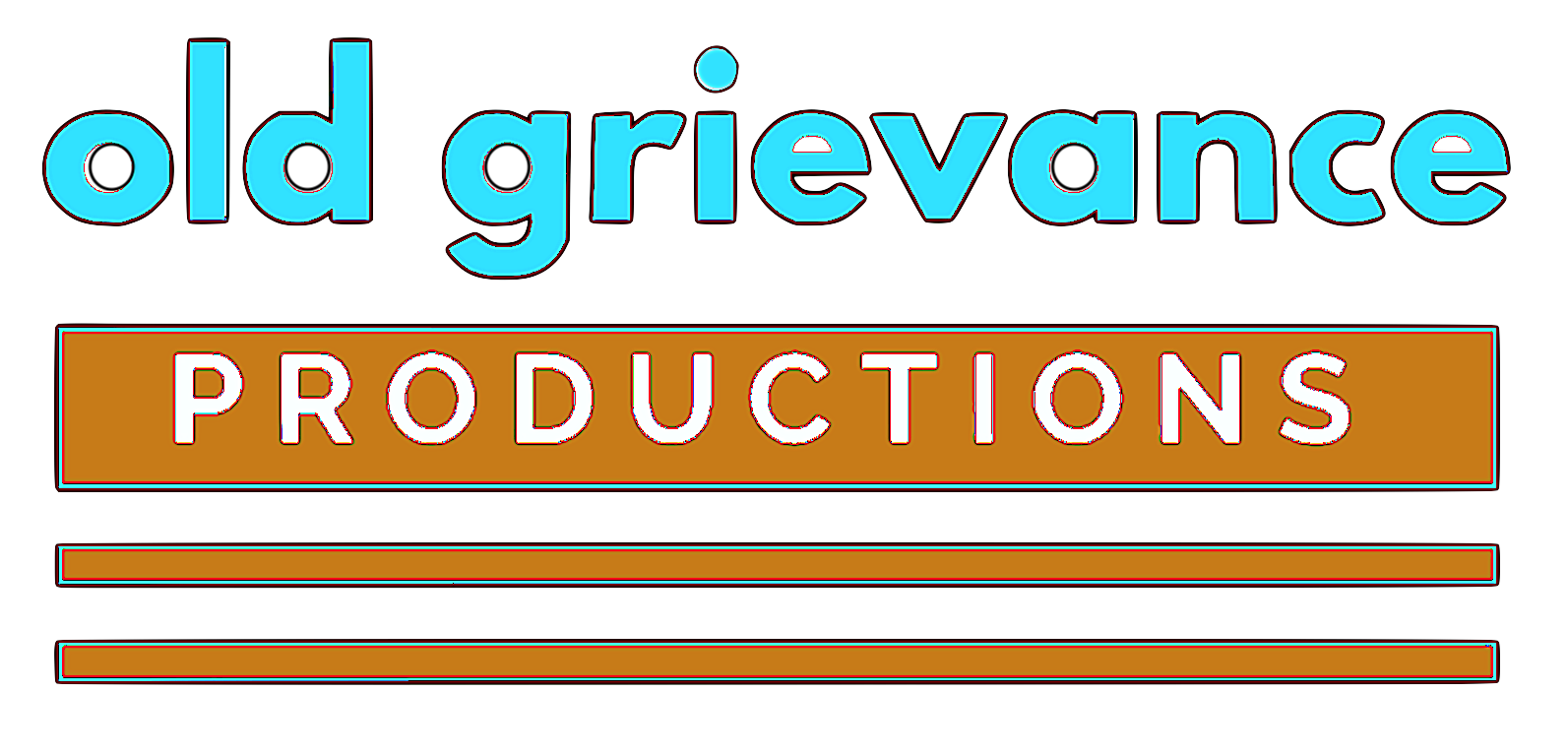 2021© Copyright Jacobthewilliam.BEATS DIFFERENT