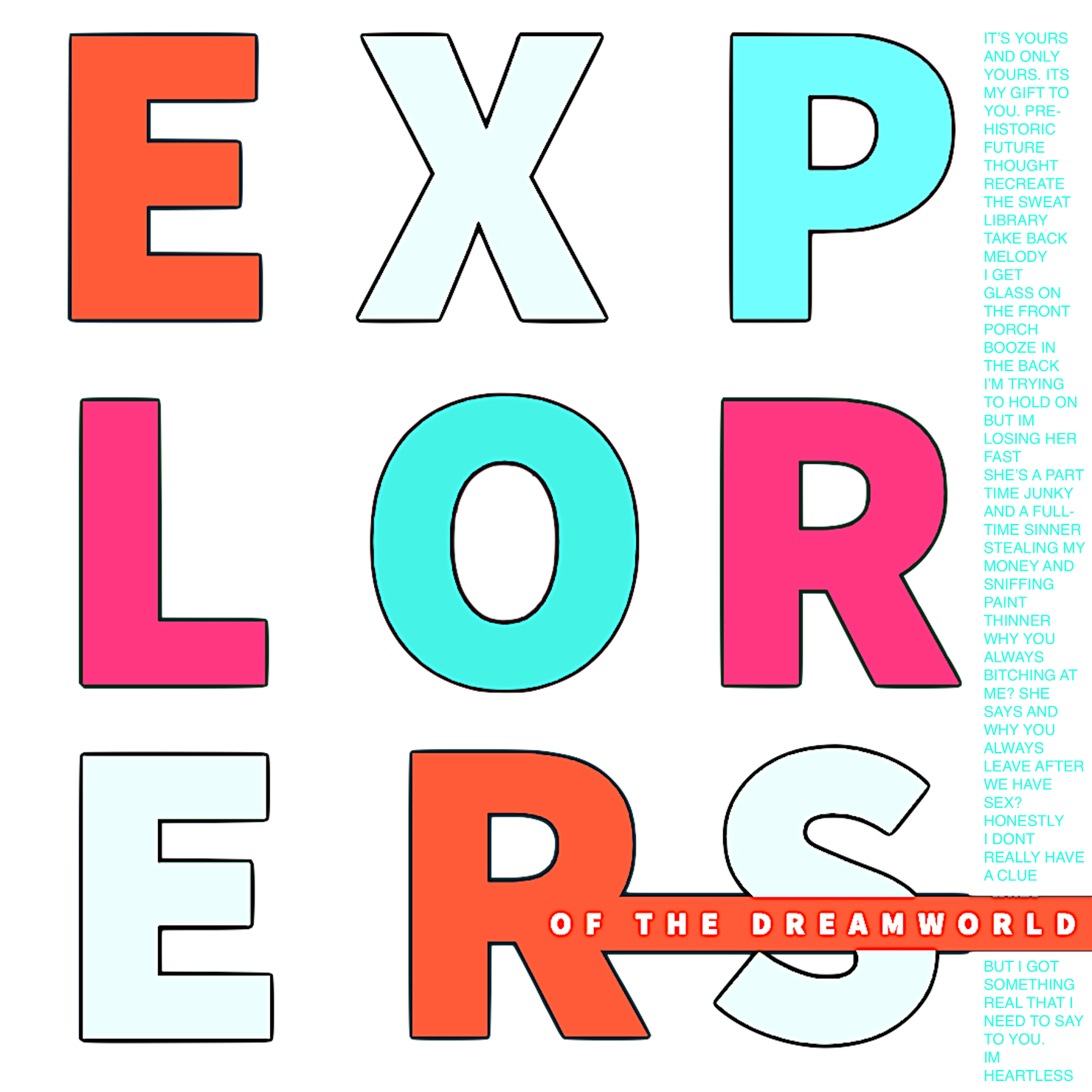 EXPLORERS OF THE DREAMWORLD IS:
MAXWELL SUNSHINE

-

THE STEAKS

(rhymes)
JACOB STARFISH

-

THE EGGS

(beats)
The often told mysterious tales of EXPDRMWRLD has recently gathered the attention of critics since the dawn of the pandemic . Arisen through the scum and filth has arose an extensive catalogue of songs which (was written/improvised/recorded/produced/designed/packaged/distributed on their own & nearly impossible to find today) is rumored to be around 3,000 songs. It should be mentioned that this figure is unknown however, due to the separate claims of each member - with Machete Maxwell shouting they've recorded 1 million songs. While Unkle Vernon - seemingly unsure - just shrugs and says "... this many" & holds up six fingers.
Ask any Portland native and most are familiar with the group and their locally grown network of supporters known as "Explorers". Most of whom own one of many bootlegged copy but have never actually seen the group in person or really even know a thing about them. This unknown factor is key to understanding the folklore of the group. Real or not, it is key to understanding the reasons behind listeners inventing their own stories as to what exactly goes on within "the dreamworld". The most popular of which is that the group belongs to a secret society of masked people. Or that they are shape-shifters from a future era. But by far the most well known story is the one which Unkle Vernon was shot 11 times, left for dead, and literally came back to life just a few days later.
According to my research and going through page after page of hospital records, I unfortunately could not find any evidence to support these claims. What IS known is that the hip-hop duo are lifelong friends who began recording songs together 20years ago at age 11 [?] and have developed a big enough following and sold enough tapes/Cd's on the street to support themselves despite staying out of the limelight and beings essentially non-existent across all social media platforms.
Which exactly brings me to my reasons for writing this very article today: It actually appears that some traces of EXPDRMWRLD (Explorers of the Dreamworld) are being leaked on a few social accounts. Whoever is behind this is unknown, but they are announcing the exciting news that the Hip-Hop duo will now be releasing their music catalog online! As a local music journalist in their community, I'm not alone when I say I am beyond anxious and curious to finally be able to hear their music as they go through the slow process of releasing online.
PLEASE NOTE: Readers should be aware that if they come across any EXPDRMWRLD limited edition mixtapes, these will be very rare and someday worth a substantial amount!

MARGO FLINT DIARIES
THE BEGINNING OF AN IDEA: 2008
This is the first album released by two lifelong friends when they were only 17 years old. Strictly as a requirement in order for each of them to graduate High School. Since then, the concept of Explorers has grown to epic proportions in the form of the groups extensive catalogue (most of which has never been found), and through countless admirers & endless believers who have helped spread the idea from person to person through word of mouth. This is only because of the groups stubborn decision never to market themselves nor appear over any social media platforms... thus making their musical recordings hard to find and extremely valuable.
COLD WATER EXTRACTION
EXPDRMWRLD EXPDRMWRLD EXPDRMWRLD EXPDRMWRLD EXPDRMWRLD EXPDRMWRLD EXPDRMWRLD EXPDRMWRLD EXPDRMWRLD EXPDRMWRLD EXPDRMWRLD EXPDRMWRLD EXPDRMWRLD EXPDRMWRLD
LIVE IN-STUDIO ACOUSTIC PERFORMANCE
THAT MEMORY IS DEAD [SINGLE]
The fIrst ever single released by Explorers Of The Dreamworld, is one of the rare tracks that features Blind Unkle Vernon busting some flows over some verses.
HERE IS A TRUE STORY...
Explorers Of The Dreamworld:
We were just kids going to school during a dark period in time where we lived, a place called Happy Valley. This place was newly established - no history to claim. New houses, new streets, new stores, and a new High School that had just been built not yet a full year by the time we started attending. Needless to say, the place was uninteresting, unblemished, uninspiring, severely uncultured. Nothing was happening (yet) at the time and kids just didn't know what to do or who to be. It was the latest expanse in a series of sprawling systematic "Suburbia" - same sad story told.
None of the kids had an original identity. They all emulated whatever they saw on T.V. So, by chance, Punk music was the popular trend so as a result, everybody I knew dressed and acted like a punk. Which was fine, but we could never vibe to the music. The first time we heard hip-hop was The Fugee's "Ready Or Not" which was introduced by a buddy's older brother one evening we traveled into Portland.
"Particularly, the drums, hitting me in my chest.... just that sound... was a moment I'll never forget" says Verne.
"Hearing those words and the delivery of them on top the beat like that. I thought was so cool. It changed my life forever" says Maxy.
We pretty much knew at that moment, we had found something we can do that would make us different. Not many of our friends had much exposure to that artform. We exploited it. We brought it into our suburb - Happy Valley. Things soon began to change from then on out.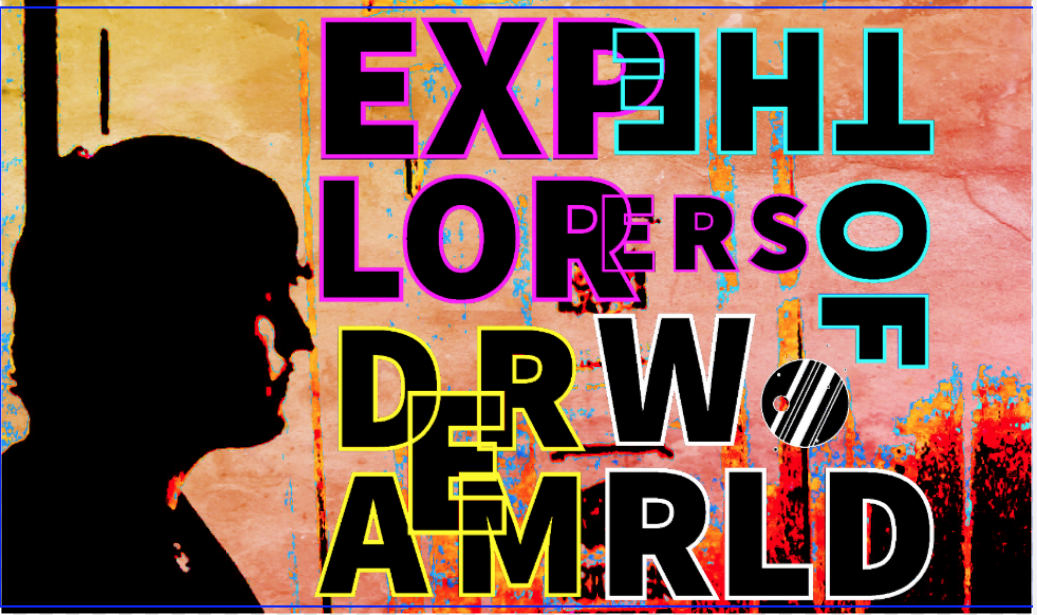 Formulated in 1898, from the constantly boiling musical cauldron of Portland, confines Oregon. Explorers Of The Dreamworld have consciously taken a backwards approach to tempering the disparate and harmonious parts of their influences into a total sum of slow motion tidal heaviness that bows to no altar but that of the BEAT. With the smoky flavors of hazed out doom and the stomping cadence of Hip-Hop's 808s, the group both tickles and deafens the ears with the theatrical flashes of snips like "Merciful Fate", the ominous tones of "Electric Wizard", and the ferociously feral feedback of "Sleep Dirge". All alike they stand aligned waiting their turn close behind their intergalactic planetary foreguides, a particularly stricken species known as Iron-cushion Orbs (planet Orb).